Before we get started, here is an updated firmware I received from Crosstour to enable the menu item "beep" that turns off the beep sound every time you press a button. 
To flash the firmware simply copy all of the files inside the folder onto the microSD card, insert it into the camera and then power it on, a blue light will apear and flash some eventually the camera will come on all by itself do not take out the battery or mess with it while this process is taking place. After flashing the new firmware be sure to go into the settings and set defaults or else it causes funny issues like webcam function not working. 
–CT9500-firmware-V2.1.0.3-A.zip
– firmware update (mirror)
Here are some specs directly from Crosstour.

Video Resolution: 4K(30fps) 2.7K(30fps)1440P(60/30fps) 1080P(60/30fps) 720P(120/60fps)
Image Resolution: 20MP, 16MP, 12MP, 5MP, 3MP
Lens: 170°A+ high resolution wide-angle lens with Seven-layer glass F/1.8 large aperture and Sony IMX377 Sensor
Wi-Fi Connection: Android/IOS supported
Battery: Two Removable 3.7V 1350mAh Li-ion batteris Waterproof Case
Depth Rating: 40m/131.3ft
Dimensions: 61*45*24mm/2.41″x1.78″x0.95″
Storage: 8 – 128GB micro SD card support(128GBMax) require Class 10+

I also wanted to include some information received via e-mail, this information is not available on their website or Amazon, it was labeled "warning tips".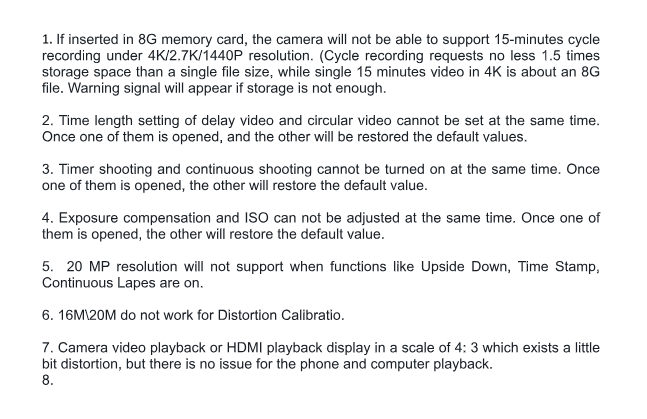 Customer Support: It was a little rocky at first, it took some time to break the language barrier and for them to realize my problems, since then I had no issues with contacting them they usually replied to email within 24 hours. (were now 36 emails in and they are still replying in a timely manner).

Once we established my first camera was faulty they quickly sent me a replacement they seem to really care that customers receive a quality product.

There are a few improvements that would be nice, one is to include is links to updated firmware to their cameras on their website, naturally anyone looking for software updates goes to the website and searches for them there it seems more logical than emailing them to everyone who has an issue. A support section with FAQ's would be a nice addition as well. Lastly their support PDF's [manuals] do not have OCR making them impossible to search.
General Function: There were some issues at first with the camera recording in 4k, then i discovered my SD card was u1 not u3, a u3 SD card fixed the issue, keep that in mind 4K uses a ton of bandwidth.
So far one thing i have realized is that compared to other 4k cameras this one uses a lot more storage for the same video similar brand cameras we can get 6 hours of 2.7k30fps video on a 64GB card, whereas this one gets about 2.5 hours of footage on the same 64GB card and the same amount of recording time in 4k most likely because its simulated 4k via interlacing, but it is strange that the 4k and 2.7k file sizes and total recording time are the same.

Video Quality: The video Quality seems really good, depending on the lighting. 1080p is lacking though with as good as the 4k looks it would be expected that the 1080p would look better than it does. Below is some footage of testing it as a dash cam, it was mounted on the top of my land rover roof rack. The hunting video the camera was clamped to my shotgun with the provided "handlebar" clamp.
Audio: When recording and there's not much sound being picked up there's an audible high pitch hum in the background that seems to be noise from the processor. Other than that the audio is pretty decent for a tiny camera, though if its in the water proof case obviously the audio is going to be very quiet and muffled.
Webcam: The original camera was kind of glitchy but the function worked with random artifacting. At first i had an issue where the camera wouldn't go into webcam mode after upgrading the firmware, after contacting crosstour they suggested selecting default settings on the camera and that worked fantastic. (see above post with the firmware update) (webcam quality footage coming soon updated: 9-10-18)
Still Picture Quality: Well, its about as good as it can be for a tiny non focusing camera, that said its pretty decent in well lit scenes "20MP" can be misleading you aren't going to get even close to a 20MP DSLR or the likes. I sent the children out with it to take some pictures and this was what they came up with.
See scaled down images below. For full size unedited images click here.
[full size images hosted in the cloud to save bandwidth]
Battery Life: The batteries seem to last just about an hour recording at 2k30fps still need more testing at other resolutions that has been the sweet spot for quality, recording time and battery life. update: I just wanted to add here that the battery cover on this is much nicer than other cameras i own, it latches closed and is spring loaded, the others have cheap snap in battery covers that i always worry about losing, not the case on this one at all.
Conclusion: Well its a decent little action camera I will give it that, there seems to be some bugs to be worked out with it yet. Also I think they could send it with some better default video settings, everything seems super bland and washed out with the default settings. I also wish there were accessories available as I am going to need a new waterproof case i had to superglue mine to the handlebar mount so it would stay still when shooting lol. I'm still on the ropes at this time as to weather I would recommend this to a friend or family, though I am still working with crosstour to see if we can help get the bugs worked out of it, and their customer support has been great.

The camera cost $89.99 on Amazon the main reason I paid more for this camera than the $60 4k cameras is this one has the built in image stabilization that I was looking for specifically as mine is going to spend most of its life recording attached to a gun. Now at this price point the Gopro session is only $20 more currently on amazon, it doesn't have image stabilization, 4k, or changeable batteries but its a high quality camera (from what I've read). So that's really up to you to decide I am no camera expert and am still definitely learning as i go.
[edit] It seems they have raised the price to $99, which puts it at only $9 less than the Native 4k cameras, as this is a simulated interlaced 4k bumped up from a 2.7k source one could not be sure without a proper comparison.
Thank you for reading, subscribe to be notified of future reviews!
-Ross Bannister (wagex)
Disclosure: I am not affiliated with Crosstour, this is my honest review of the product i am not making any money from this post and i purchased the camera with my own money. Products purchased from Amazon links will generate revenue that will help this website.
Link to product on Amazon: Crosstour Action Camera Real 4K 20MP WiFi Underwater Cam 40M with EIS Anti-Shake Time-Lapse Recording Plus 2 Rechargeable 1350mAh Batteries and USB Charger and Accessories Sets